DESERT MALLEE HONEY
Collected from Mallee trees in the red ochre soils of Western Australia's historic Goldfields district, this honey, in taste and colour embodies the harsh extremes of the desert environment its collected from! Produced in small batches as the deserts seasons are unforgiving with common droughts and heat stress on these Mallee trees.
Regular price
Sale price
$24.00 AUD
Unit price
per
Sale
Sold out
What is Total Activity?

Total Activity (TA) is the measurement of the honey's antimicrobial quality or its antimicrobial strength in killing bacteria. Any honey with a TA rating higher than 10+ has beneficial antimicrobial properties. The larger the TA number, the stronger the antimicrobial effect level of the honey.

We get most of our honey tested for its Total Activity by the NATA registered Chem Centre of Western Australia, Intertek, and Analytica Laboratories.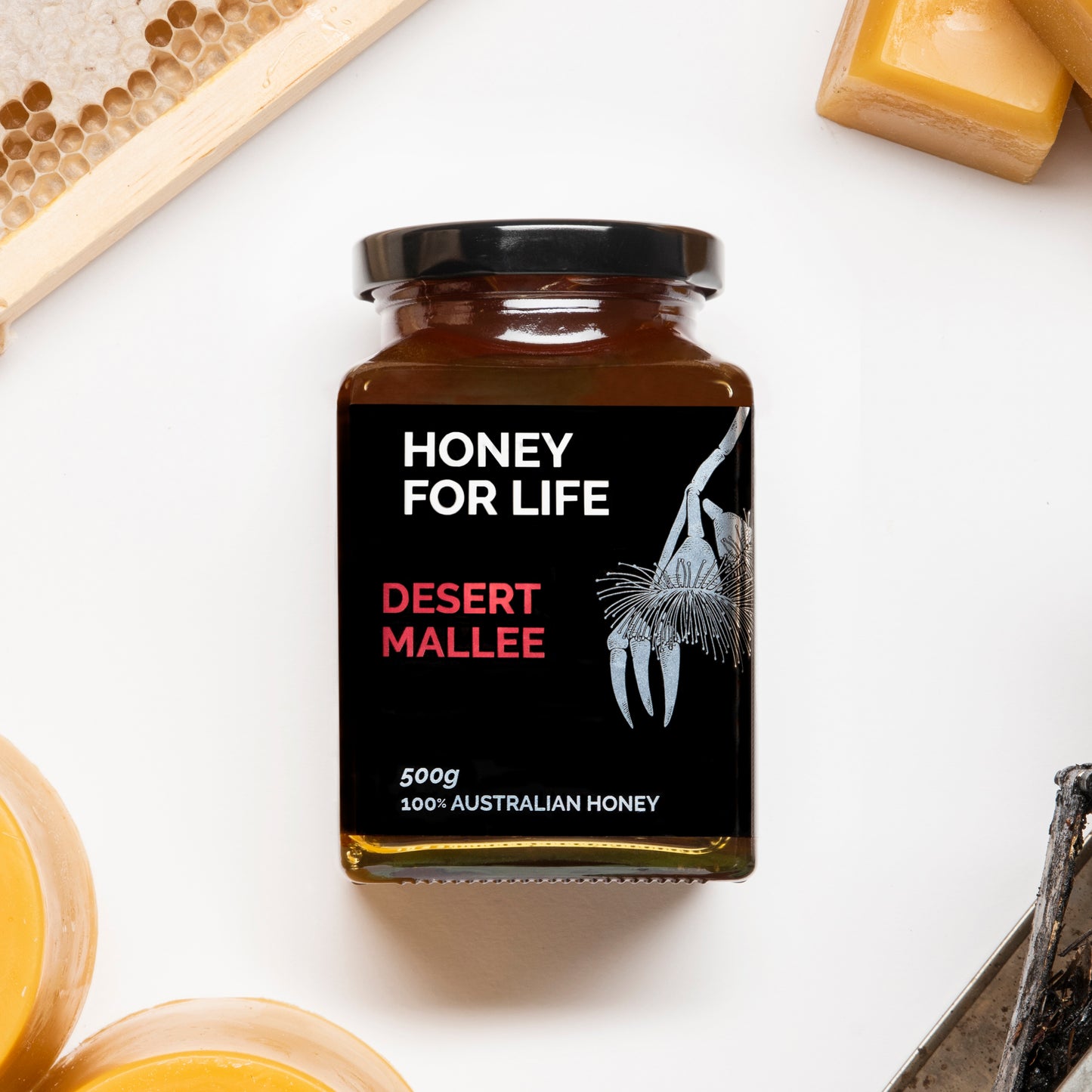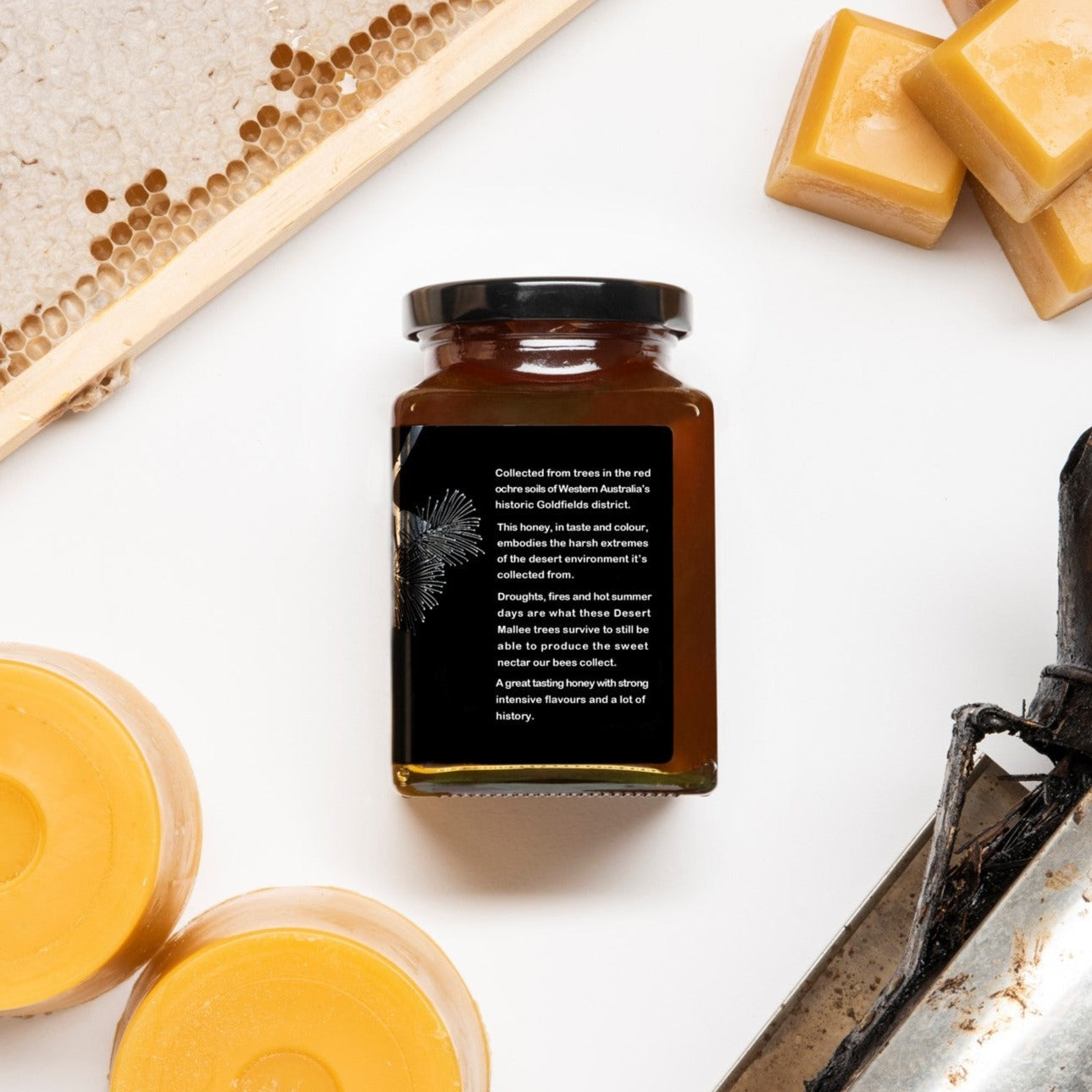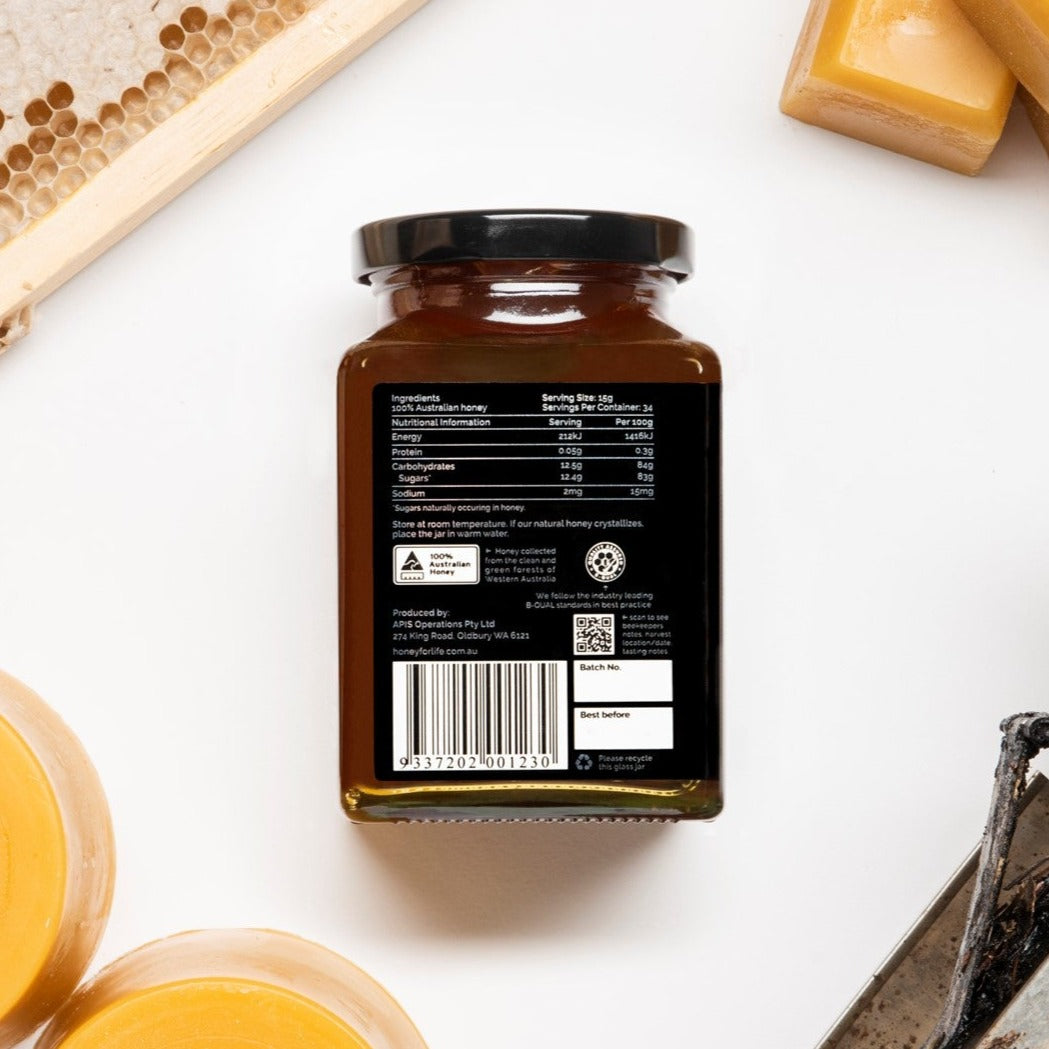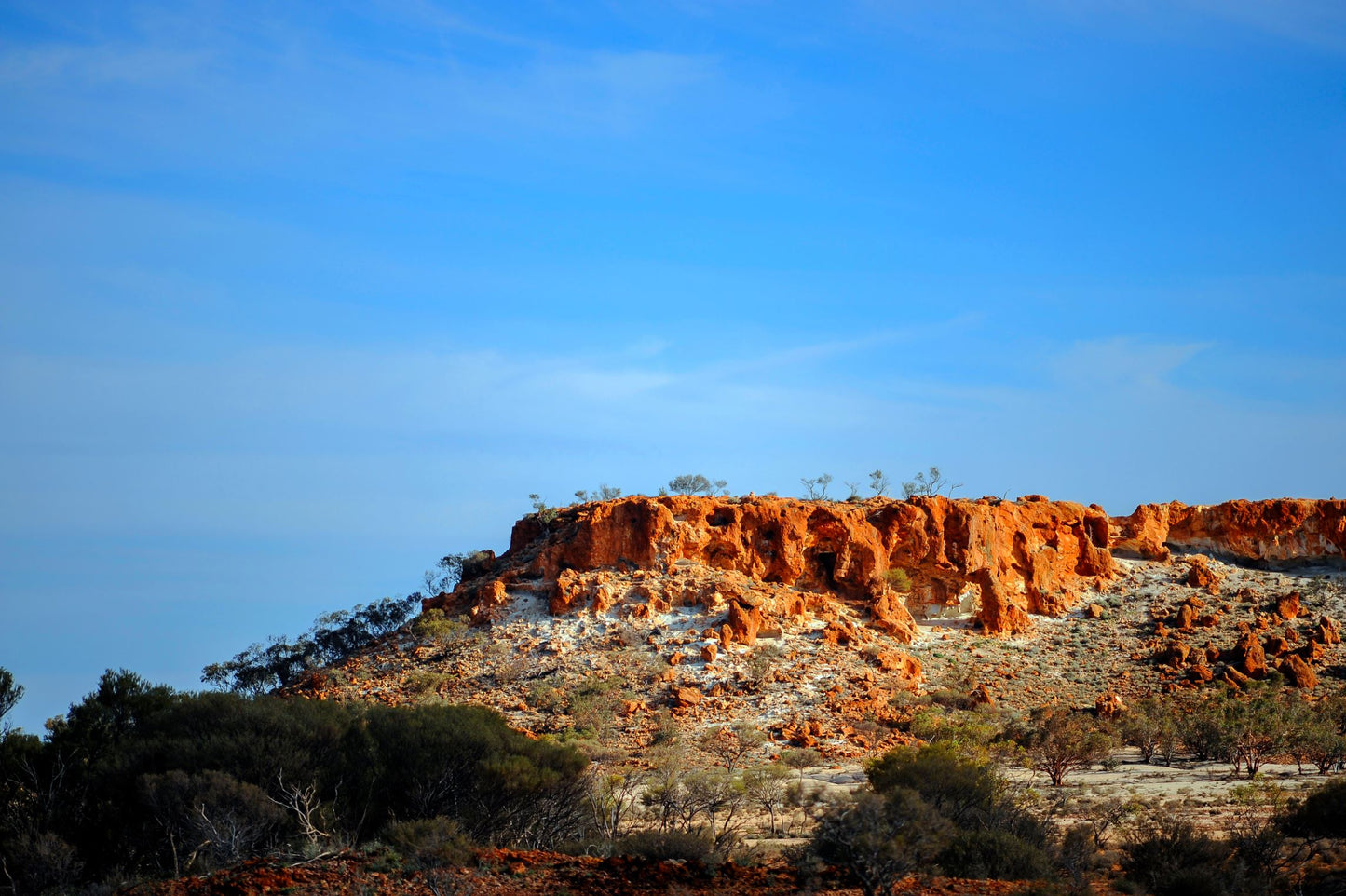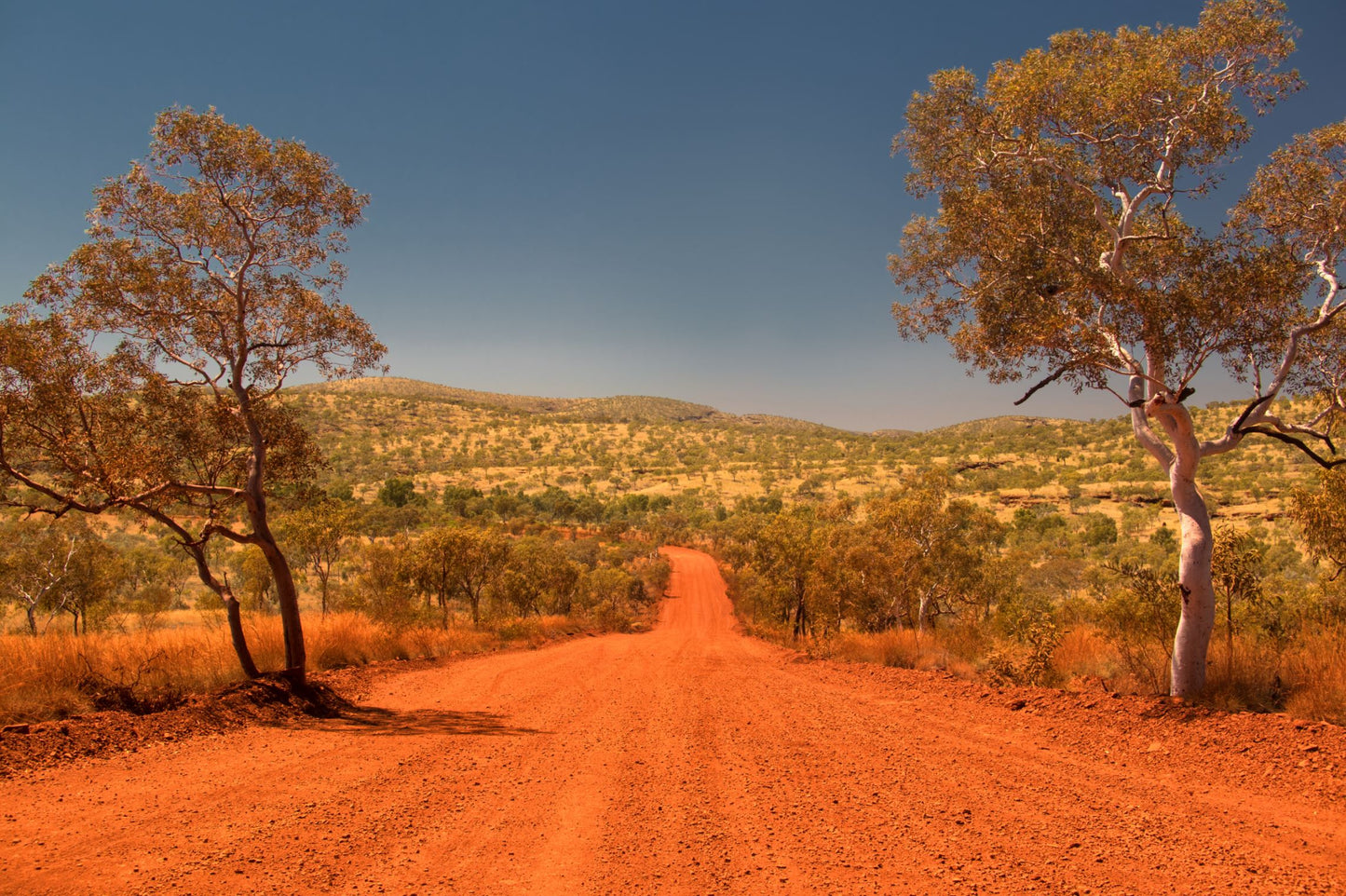 Honey Profile
Harvest Location

Close to the country town of Norseman, Western Australia
Tasting Notes

A beautiful balance of citrus, minerally complexity and toffee. This is a medium coloured honey with a strong taste.
0.00% Glyphosate (No Trace Amount)

0.00% test result received from Analytica Laboratories (Auckland, New Zealand)
0.00% Antibiotics & Pesticides (No Trace Amount)

0.00% test result received from Intertek Laboratories (Bremem, Germany)
Customer Reviews
Desert Mallee
Best honey around
Desert Mallee
Best honey around
11/10/2023
milorad t.

Australia
Bold Body
there's something about this honey that's unique from the other honeys that Honey For Life produce it has a really bold body it has real substance its quite filling it coats he throat beautifully and leaves a lasting smooth flavour
02/10/2023
Jude A.

Australia
Deeply impressed
Delicious and deep and not too sweet
31/08/2022
lindsay h.

Australia
Delicious
Absolutely delicious honey.
03/08/2022
Lee R.

Australia
Tastes great
Great in my morning smoothie
16/07/2022
Adele H.

Australia
Natural honey
This is a lovely sweet and light tasting honey. Love it
17/06/2022
Darryl S.

Australia
Nice honey!
Really like the taste of this. Good for a teaspoon full straight down . Recommended
08/05/2022
David N.

Australia
well worth it
I have only tasted honey similar to this once before from a friend of a friend who had bees in the desert. The flavour is incredible, to me it has a real buttery flavour to it which I love, and lingers on the pallet. I'll definitely be buying more...
09/06/2021
Margaret W.

Australia
Beautiful Honey
Received both the honey and beeswax very quickly. Excellent products and great service.
08/03/2021
David P.

Australia
Value for Quality
This is a great awakener.The desert mallee is exceptional in refined clear flavor.GO FOR IT!