SUPER JARRAH HONEY TA50+
Super Active Jarrah Honey Details
Sourced from a pristine Jarrah forest along the Darling Scarp just outside of Perth, if there was one Honey For Life honey you have to try, it has to be this one. Our Super Jarrah Honey is Super because of its remarkably high Total Activity rating which sits at 50+, making it incredibly rich in antimicrobial bacteria fighting properties and full of delicious flavour.

With so many of our customers experiencing health benefits from our super active honey, why not try out the goodness for yourself? Shop our Super Jarrah Honey TA50+ today.
Regular price
Sale price
$50.00 AUD
Unit price
per
Sale
Sold out
What is Total Activity?

Total Activity (TA) is the measurement of the honey's antimicrobial quality or its antimicrobial strength in killing bacteria. Any honey with a TA rating higher than 10+ has beneficial antimicrobial properties. The larger the TA number, the stronger the antimicrobial effect level of the honey.

We get most of our honey tested for its Total Activity by the NATA registered Chem Centre of Western Australia, Intertek, and Analytica Laboratories.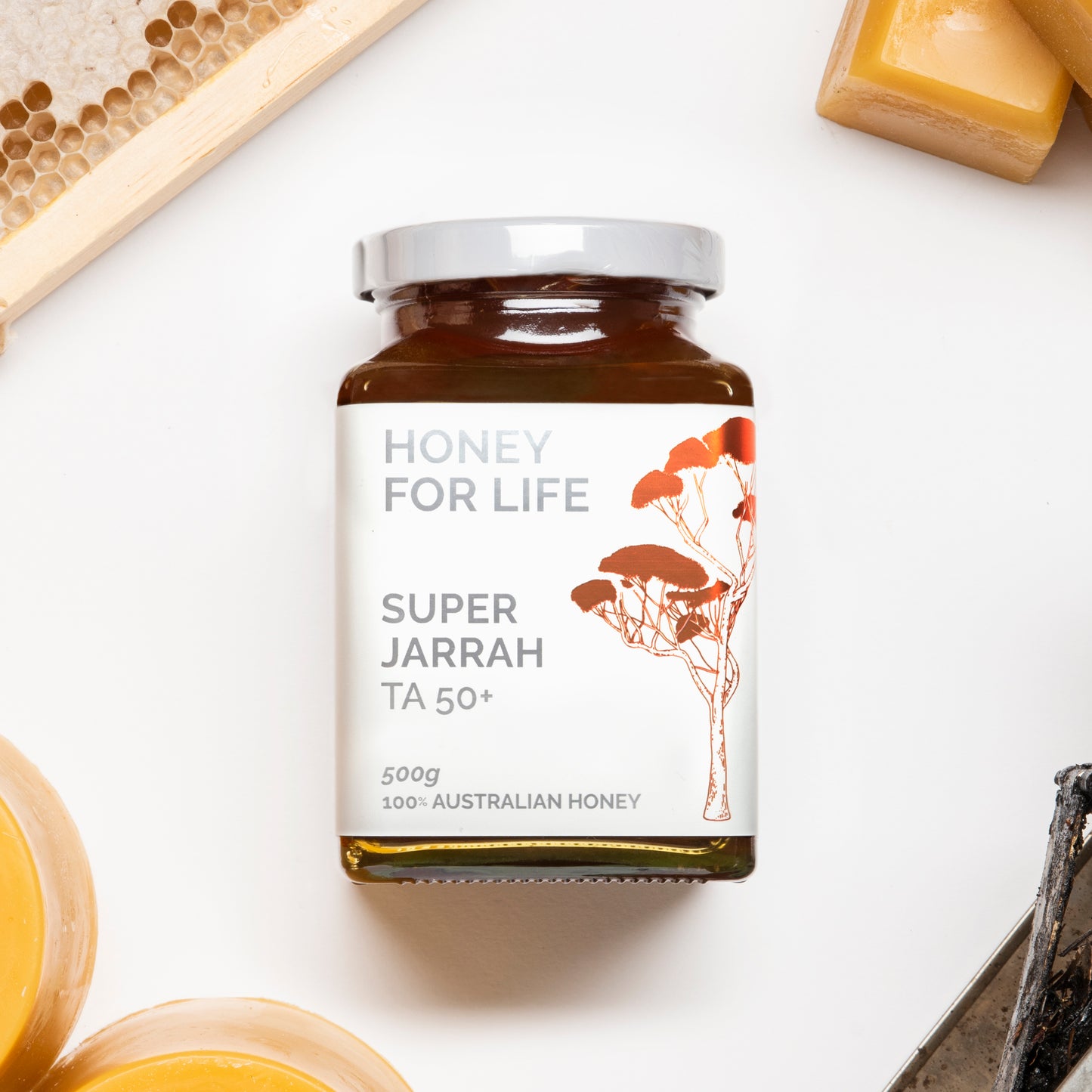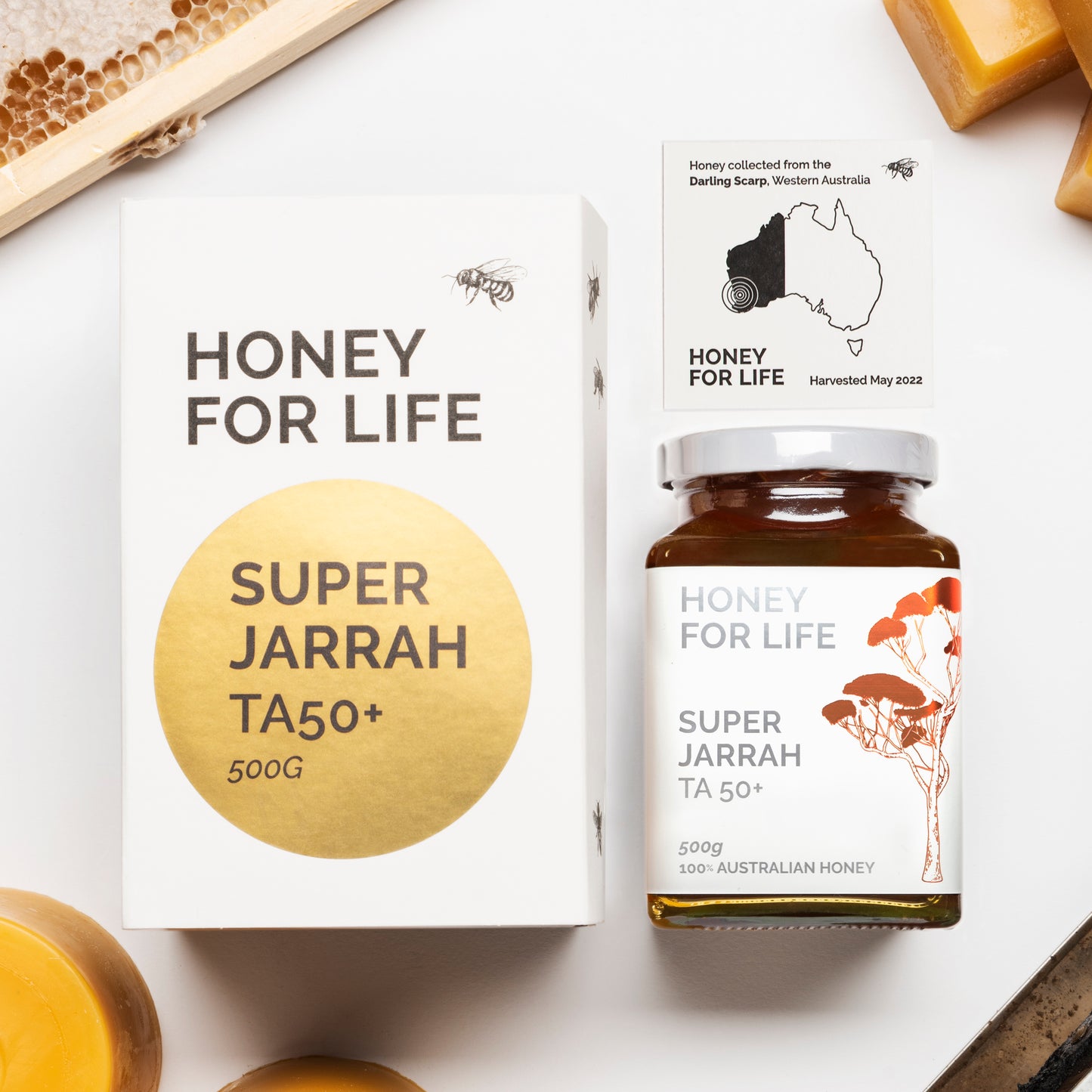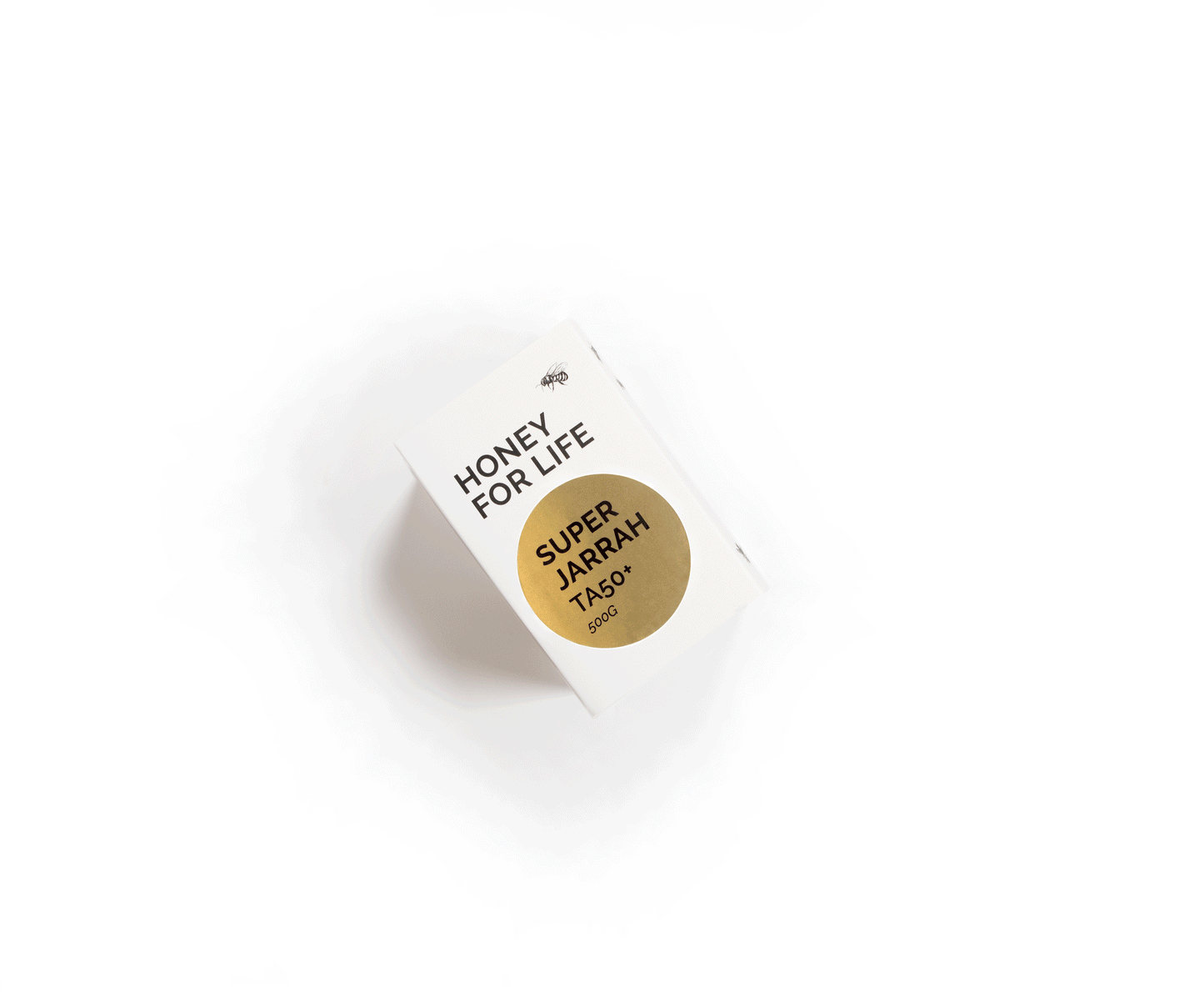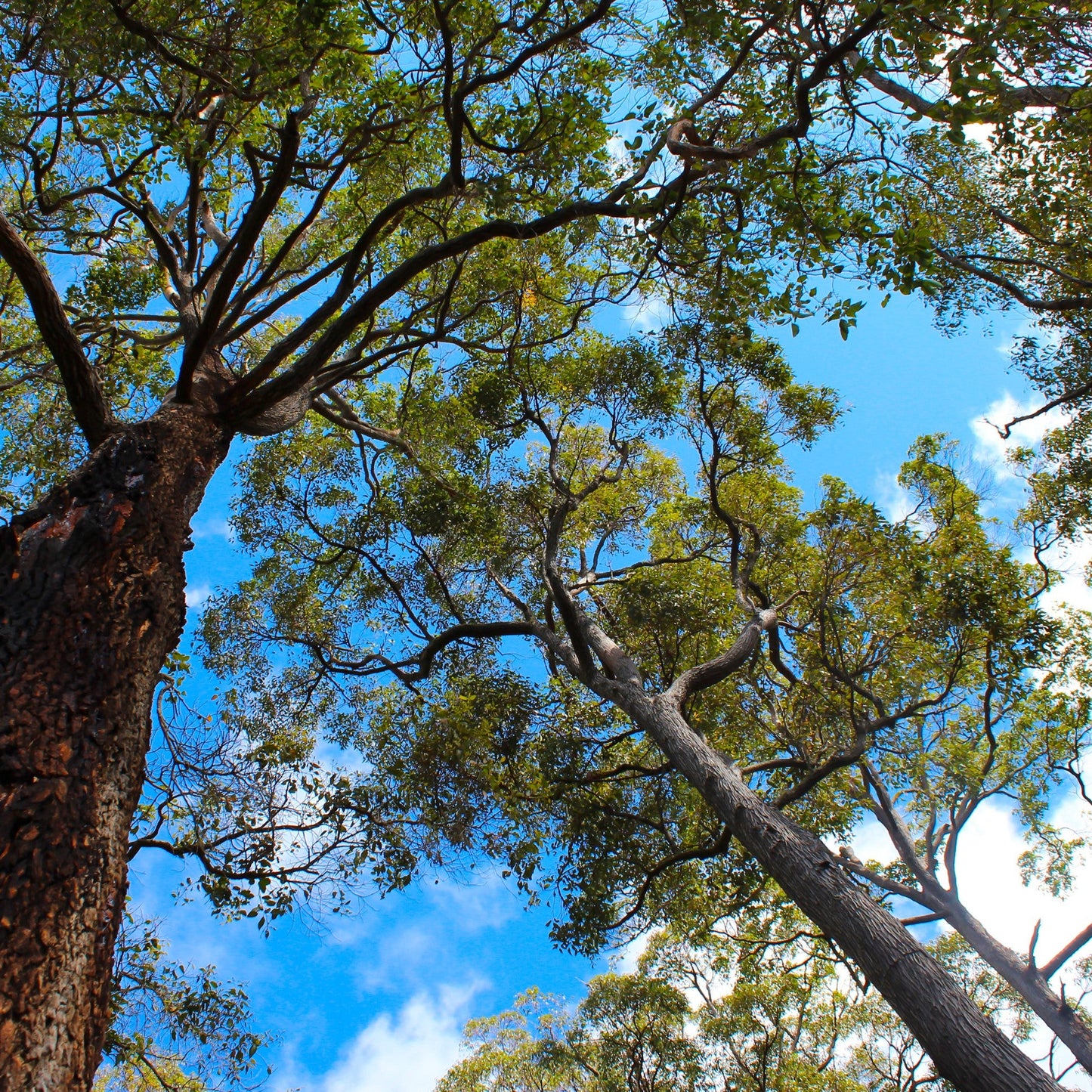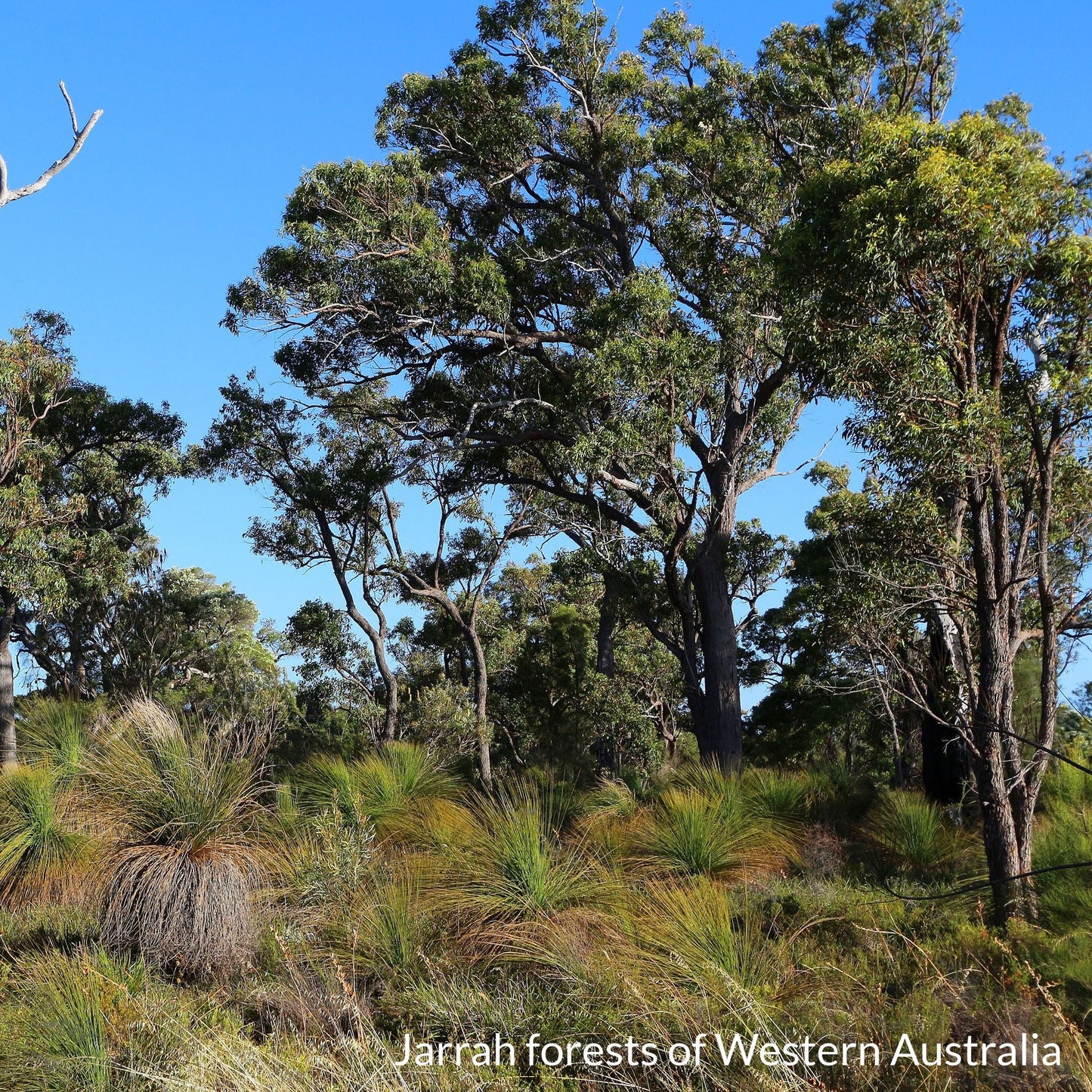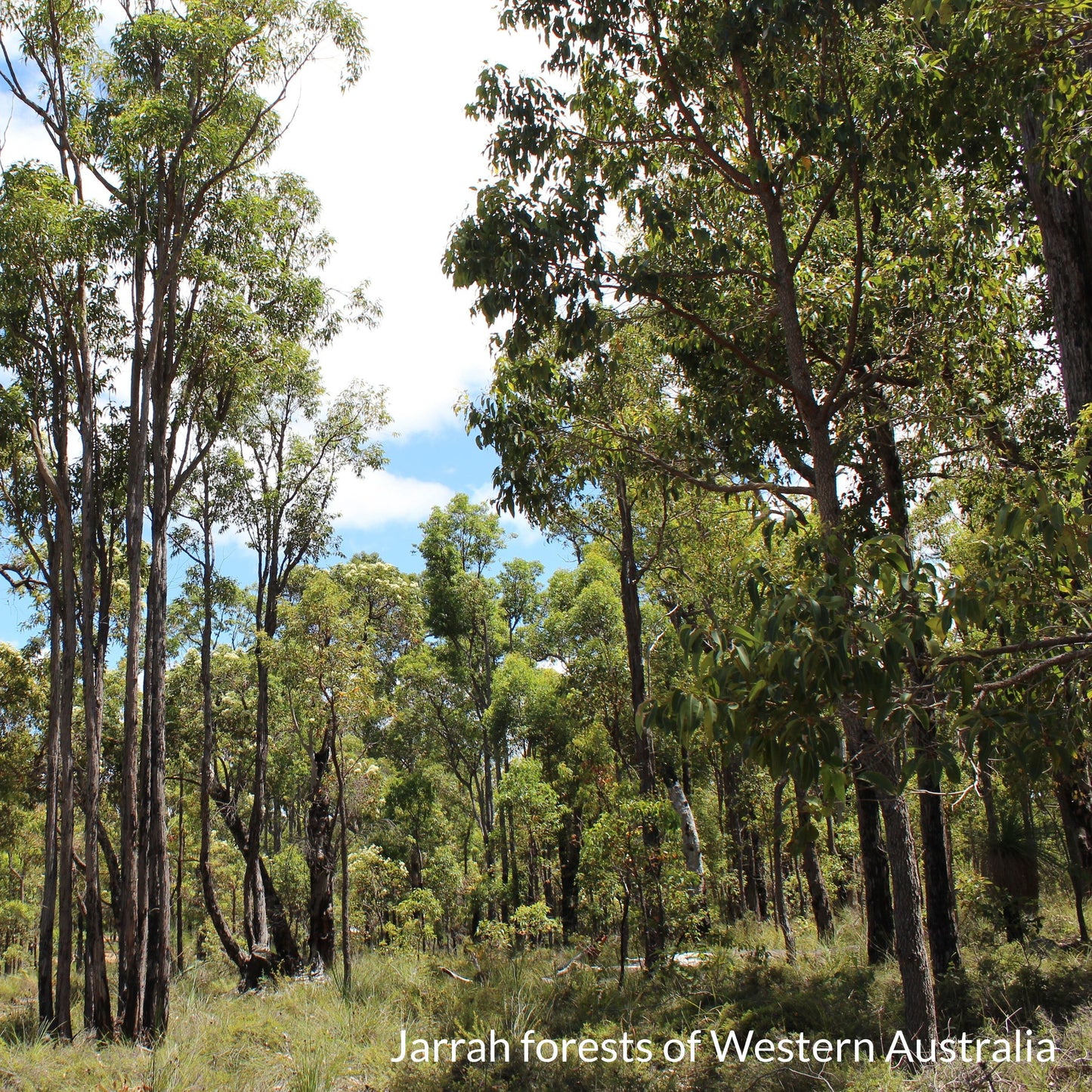 Honey Profile
Harvest Location

Midgegooroo National Park, Kurragullen, Western Australia
Tasting Notes

A deep complex and strong combination of malty, minerally, floral and tangy flavours. This is a darker coloured strong tasting honey.
0.00% Glyphosate (No Trace Amount)
0.00% Antibiotics & Pesticides (No Trace Amount)
Customer Reviews
09/12/2023
Khurram

United States
Amazing honey. Fast shipping. Jarrah honey taste is very unique.
04/10/2023
Nicholas C.

Australia
Super jarrah
Beautiful tasting honey!
05/09/2023
polina r.

Australia
Nice but extremely expensive!
Nice, love it, but it is not affordable for pensioners!!!! TOO EXPENSIVE!
02/09/2023
Darrin C.

Australia
Yummy
Yummy and it's good for you
02/09/2023
Anthony B.

Australia
Love this stuff
We have been using this honey for a few months now and we are really enjoying flavour and quality. So far we are just starting to feel some of the benefits of TA50+ and will continue to use this product. Unfortunately our last order had a crack in the side of the jar! Didn't loose much honey but it was a little messy when we opened the carton.
02/09/2023
Glenn G.

Australia
09/08/2023
Graham R.

Australia
Amazing.
All I can really say is this honey Awesome.
02/08/2023
TIMOTHY C.

Australia
Honey Honey
Beautiful, delightful, very tasty Honey
02/08/2023
Sandeep M.

Australia
Good packaging and tasty honey
Good packaging and tasty honey
02/08/2023
Graham R.

Australia
Excellent.
This Honey beats other Honey 3x's the price has helped my overall health greatly in a short time.
19/07/2023
Sarwa A.

Australia
Taste is good
Great product love the taste can't stop eating,I have it everyday with tea or a cup of cacao
19/07/2023
Doreen M.

Australia
lovely honey
This is a good tasting honey with health benefits. Good communication and delivery too from Honey for Life.
03/04/2023
Evangelia D.

Australia
Best honey,Ever!!!
I love this Honey,& am most impressed with its quality,purity & origin.
07/03/2023
Bromwyn D.

Australia
Beautiful Jarrah Honey
I have been using your Jarrah Honey for Life for a couple of years; however, this was the first time I have used your TA50+ product. I find it to be very rich in flavour and gentle on my system. I am taking it for Irritable Bowel Syndrome and other internal problems and it seems to be helping me a lot, not only with the pain, but also the burning sensation I was experiencing.
01/03/2023
Elise E.

Australia
Delicious, quick delivery--but ordering mix-up
My order arrived in Victoria super fast, and the honey is delicious!! I bought this as a medicinal product to see if it has any positive effect on a chronic health issue. My only gripe is that once I'd paid for my order for a 250g jar, a promotion popped up to "upgrade" my order to a larger size for a discount. Which was obviously a great deal, and I accepted (500g). Except that it didn't "upgrade" my order, it added the 500g jar to the 250g. Meaning I had purchased 750g of honey and spent a lot more than intended. The product is top notch, and I will eventually use it all, but I feel like the website needs to reword how that "promotion" actually works, it definitely doesn't read as "purchase an extra product". I was pretty annoyed at the time, but I didn't have the time or energy to follow it up as I was heading into hospital the next day. If that ordering issue is fixed, I will likely order again. As I said, the product is amazing.
27/02/2023
Alisa G.

Australia
Quick delivery and delicious honey
Could not fault the service or the honey.