THE BEEKEEPER'S RESERVE - TASTING PACK
Combining our most famous and delicious honey types all collected from the remote regions of Western Australia, this is the perfect way to buy 6 jars in 1 beautifully designed box and taste Karri TA30+, Marri TA35+, Jarrah TA35+, Murchison River MGO100+, Southern Yate TA10+ and Desert Mallee TA20+ honey types.

Perfect for any budding honey enthusiast and with the holiday season just around the corner, we can't think of a better gift... but just make sure you're there when they open it 😂😂😂 

Regular price
Sale price
$39.00 AUD
Unit price
per
Sale
Sold out
What is Total Activity?

Total Activity (TA) is the measurement of the honey's antimicrobial quality or its antimicrobial strength in killing bacteria. Any honey with a TA rating higher than 10+ has beneficial antimicrobial properties. The larger the TA number, the stronger the antimicrobial effect level of the honey.

We get most of our honey tested for its Total Activity by the NATA registered Chem Centre of Western Australia, Intertek, and Analytica Laboratories.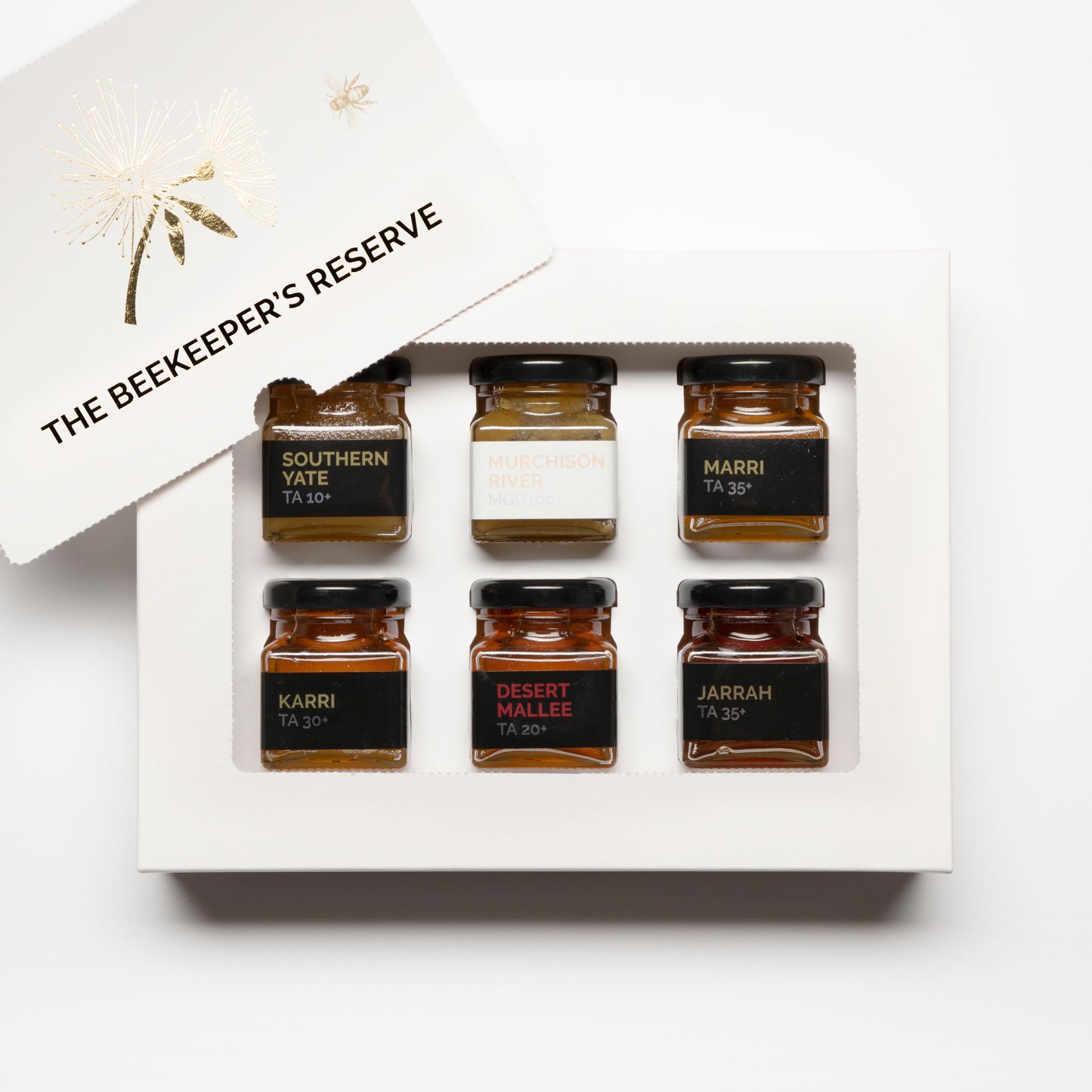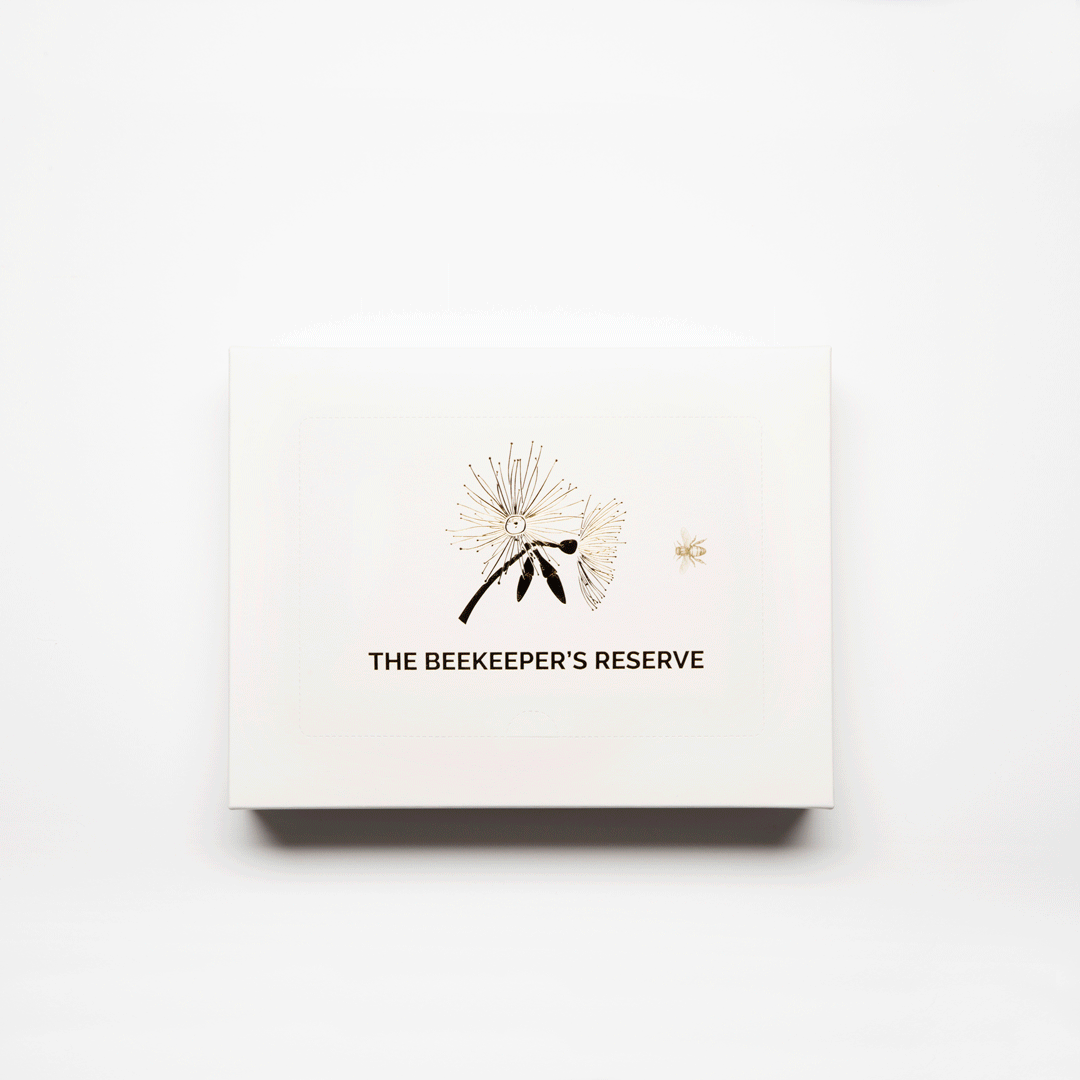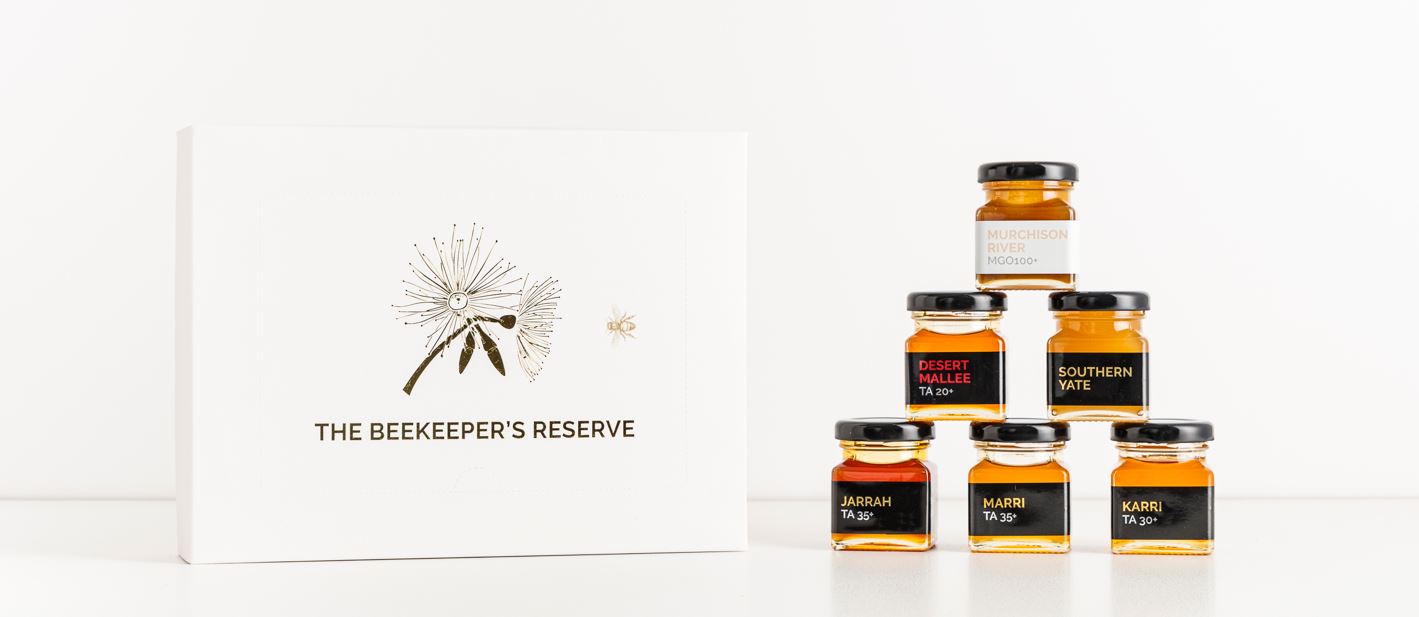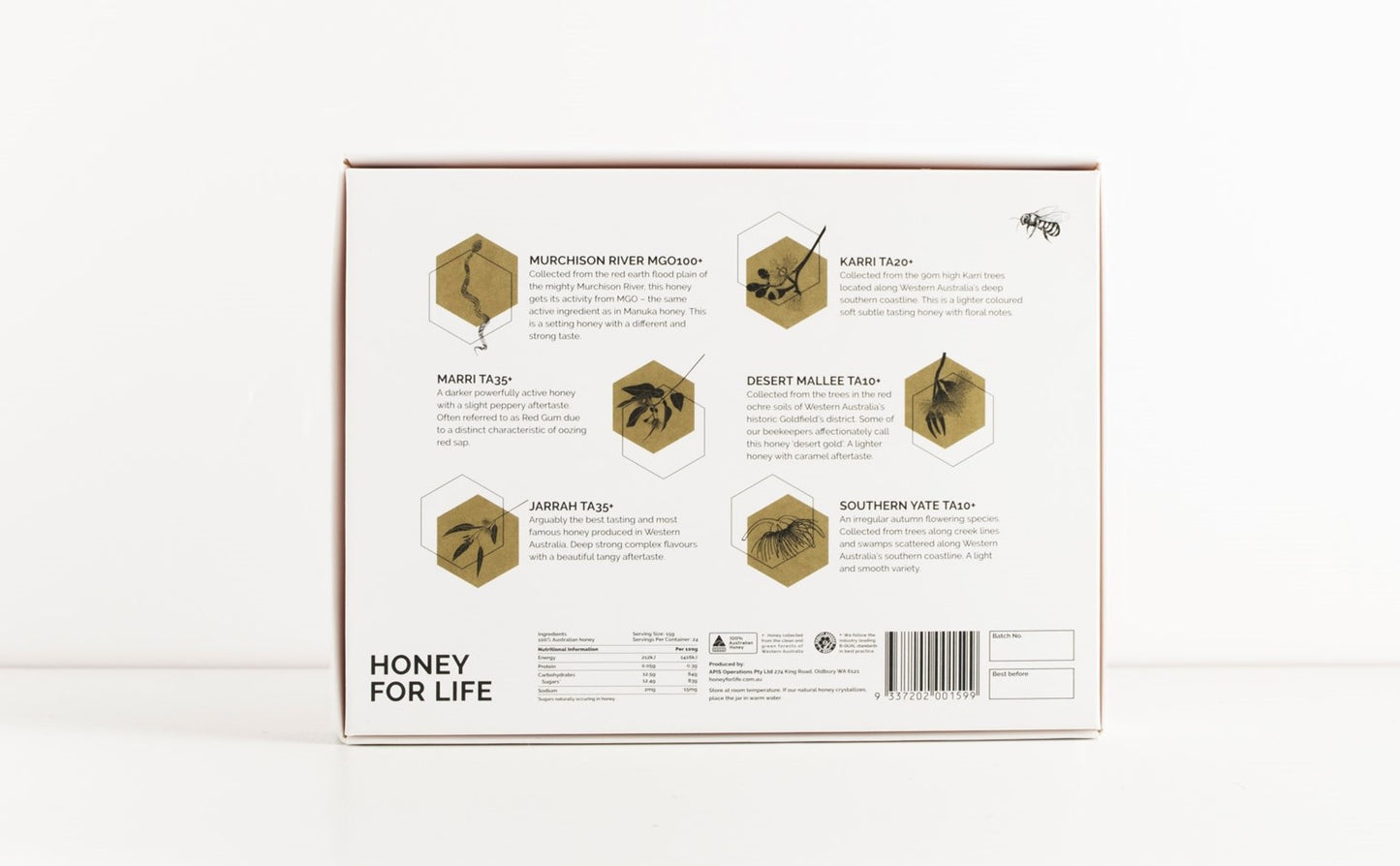 Customer Reviews
30/11/2023
Alisa &.

Australia
Great gift idea
Quick delivery, I was pleasantly surprised by the size of each box when they arrived , nicely packaged , is a practical gift also .
19/07/2023
Mark H.

Australia
Sensational Honey
The nicest honey I have ever tasted
06/07/2023
Jeanette L.

Australia
Delicious
I loved these honeys. Some with citrusy overtones. Delicious and will definitely buy again and give as gifts.
24/03/2023
Ms B.

Australia
Excellent Healing Honey
My name is not Ms Brydie - that was who the Honey Gift was sent to - and she Loved it … thank you for quick post and beautiful gift pack :)
22/03/2023
Peter B.

Australia
Beekeepers Reserve pack.
Great taste, beautiful.
21/03/2023
John H.

Australia
Great Variety
Excellent taste with all honeys having their own unique flavor. Delivery was very fast.
02/03/2023
Irene D.

Australia
Sweet As Honey
It's a gift for Japanese family -in- law which we're taking to Japan in 2 weeks. I know they'll be absolutely thrilled. My opinion- Beautiful presentation, love the description of each jar on box underside. Like a box of chocolates! The jars themselves are much larger than I expected, lots of servings. Delivery was extremely fast. Fabulous product, fabulous service. You're the Bees knees.
05/02/2023
Anjali M.

Australia
Sweet
The honey is very very sweet as compared to our purchase from the local breeder from where we get the fresh honey. Packaging and the delivery has to be appreciated. My fav flavour is the 100+ one. It is a very unique taste.
05/02/2023
Sandra O.

Australia
Not really a honey lover
Thank you for your prompt delivery of your beautifully presented honey samples. I've never really been a big fan of honey but strangely enough I like the stronger tasting ones. I have never gone through a jar without throwing out half once it crystallises. I did like your Murchison River but it was already a little crystallised. Is this normal for that lovely flavoured honey? Anyway you can tell I am not a honey connoisseur. I am giving the little jars to a friend who loves honey and she is excited to try them. I only tried a tsp of each. Thank you for the opportunity.
11/01/2023
Sonja R.

Australia
Beekeepers pack.
Havn't used this pack yet but have been using your honey for some time now and it is excellent. I'm sure this will be the same.
11/01/2023
Daniel J.

Australia
Tasting pack
The sample pack was perfect! A great selection of types, all with a different flavour and full of nutritional goodness!
07/01/2023
Elvira C.

Australia
Testing pack
This is perfect gift. I bought a few packs for Christmas gifts. People loved it. I also bought it for home and my little son loves tasting them every day and chose his favourite flavours. Going to buy bigger jars of those.
09/12/2022
Jennifer C.

Australia
Christmas gifts for friends
What a fantastic gift for Eastern States and overseas friends. We love this gift packs. This is the second lot I've purchased along with a whole load of Jarrah honey to take the Singapore with us. We just love your honey. Well done guys you should be very proud of what you have achieved, local WA produce
06/12/2022
Nayef S.

Australia
Great variety but not enough!
A good idea and lots of variety. Just wish the jars were a little bigger.
06/12/2022
Mohamad R.

Australia
Best gift
Great gift idea 10/10 affordable price also
19/11/2022
Jeanie G.

Australia
Amazing taste
Once you try these amazing different types of honey, you will never buy from the supermarket again, converted honey snob now